Where Patients Come First
Whitewater Oral Surgery Group | Dental Implant Experts is a leading oral and cosmetic surgery practice in Boise, Idaho. In line with our mission to provide every patient with an outstanding experience, we keep up with current advances in the field, equip our offices with the latest technology, and employ a skilled and compassionate staff. Our patients are at the center of everything we do. At Whitewater Oral Surgery Group | Dental Implant Experts, we deliver care with health, safety, and well-being in mind.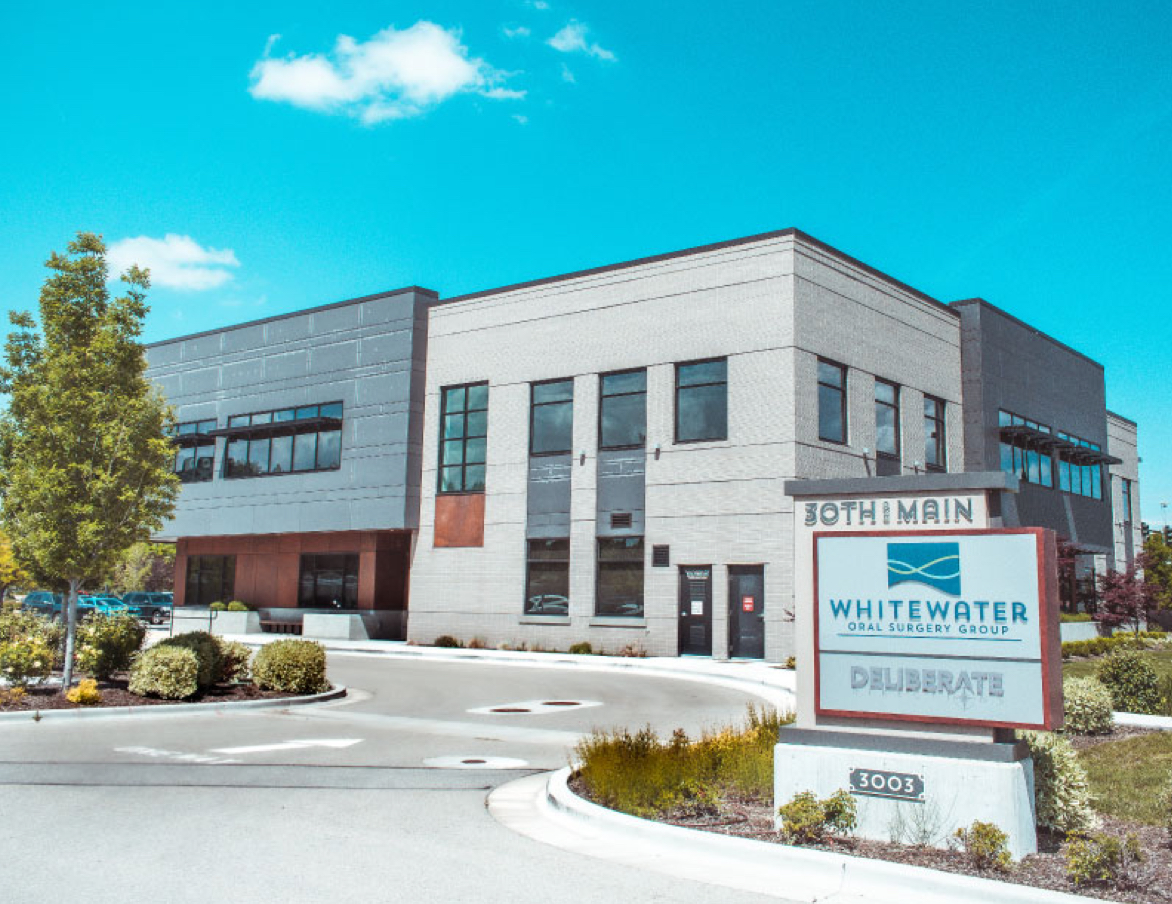 Procedures at Our Boise Office
We offer a wide range of oral and maxillofacial surgery procedures and cosmetic services in Boise, ID. To view all of our services, please visit our oral surgery page.
Dental Implants in Boise
Dental implants are a popular choice for tooth replacement. They are strong, look natural, and allow patients to reclaim the ability to eat the foods they love. They are also versatile, since dental implants can replace one tooth, many teeth, or even an entire arch of teeth with full-arch restoration.
The dental implant post fuses to your jaw bone, creating a permanent and sturdy foundation. In fact, dental implants are the only tooth replacement option that prevents the jaw bone from deteriorating because they provide stimulation during chewing. Removable dentures only sit on top of the ridge in your mouth, putting you at risk for bone loss, dental shifting, and complex surgery in the future to repair a weakened jaw. By choosing dental implants, you are protecting your oral health for years to come
Wisdom Teeth Removal in Boise
Many patients will seek an oral surgeon for wisdom teeth removal. Also known as third molars, wisdom teeth are often removed since they can cause a host of oral health problems. If you experience pain or swelling in the back of your mouth or can see the top of a wisdom tooth poking through the gums, it may be time to have them removed.
When you leave wisdom teeth untreated, they can push adjacent teeth out of position. Their roots can damage the roots of other teeth and nearby nerves. A wisdom tooth can partially erupt or become impacted, where it is trapped beneath the gum tissue. When this occurs, surgical intervention is necessary to extract the tooth and protect your other healthy teeth. We make the extraction process quick and easy, and offer many anesthesia options for your comfort during surgery.
Why Choose an Oral Surgeon?
Oral and maxillofacial surgeons are experts at replacing missing teeth, extracting wisdom teeth, and performing many other advanced surgical procedures involving the head, neck, mouth, and face. Oral surgeons must complete a residency program following dental school. During this time, they gain hands-on surgical training, treating patients with a variety of oral health needs in a hospital setting. Oral surgeons are the only dental professionals qualified to administer all forms of anesthesia. If a patient requires further treatment or diagnosing outside of simple tooth extractions, a general dentist will refer the patient to an oral surgeon. These procedures include corrective jaw surgery, treatment for facial trauma, examining soft tissues for the presence of oral cancer or disease, bone grafting, and much more.
Surrounding Cities/Neighborhoods
We are committed to improving the oral health of the communities we serve by providing excellent clinical care and progressive technology in a warm and compassionate environment.
Boise, ID
Star, ID
Caldwell, ID
Sun Valley, ID
Hailey, ID
Nampa, ID
Bellevue, ID
Carey, ID
Contact Our Boise Office
Message Our Boise Office
*Required Fields
Whitewater Oral Surgery Group | Dental Implant Experts is proud to be a part of our Idaho communities. Check out our other locations to find the office closest to you.
Questions? We Are Here To Help You
Whitewater Oral Surgery Group | Dental Implant Experts is committed to providing exceptional oral and cosmetic surgery experiences for every patient. Please give us a call if you have any questions or concerns.