An Unparalleled Patient Experience
At Whitewater Oral Surgery Group Twin Falls | Dental Implant Experts, we treat our patients with the utmost respect and compassion. Our staff consists of highly skilled individuals who truly care about what we do and ensure every patient has an excellent experience with us from the moment they come through our doors. Our Twin Falls office is located in the north side of town off of Falls Ave, where we look forward to using advanced technology and techniques to improve your oral health and quality of life.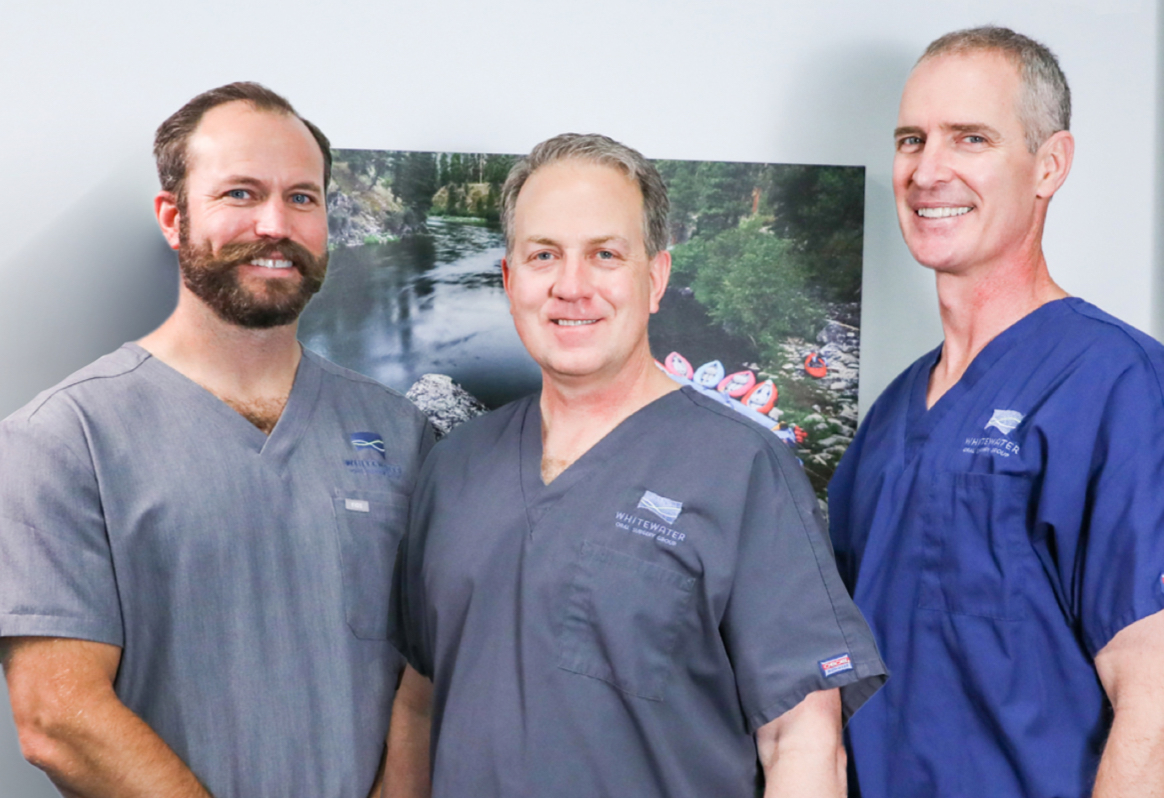 Procedures at Our Twin Falls Office
Our team of expert surgeons perform many oral and maxillofacial surgery procedures to improve our patients' oral health and confidence. To view all of our services, please visit our oral surgery page.
Dental Implants
A dental implant consists of a post, abutment, and custom-made crown. Your oral surgeon will surgically insert the post and over time, it will fuse to the jaw bone. This creates a permanent, sturdy foundation for your replacement teeth and allows you to enjoy your favorite foods without the inconvenience of removable dentures or bridges. Dental implants are the only solution for missing teeth that prevents jaw bone loss because they provide the same stimulation to the jaw as natural teeth roots.
Multiple dental implants can support a permanent denture through full-arch restoration, resulting in a completely new and fully functioning smile. The crown of your dental implant is designed to blend in with your other teeth for a natural-looking appearance. With their incredibly high success rates and longevity, dental implants remain a popular option for patients with missing, damaged, or failing teeth.
Wisdom Teeth Removal
Wisdom teeth, or third molars, develop during the late teens and early twenties. Dentists and oral surgeons recommend having them extracted as soon as possible to avoid oral health issues, such as overcrowding, pain, infection, and the formation of cysts or tumors. Wisdom teeth can grow at angles toward your other teeth, causing damage and knocking them out of alignment. They have large roots that can damage other roots or facial nerves.
You can avoid these complications and more by having your wisdom teeth extracted by the professionals at Whitewater Oral Surgery Group Twin Falls | Dental Implant Experts. We perform most wisdom tooth extractions with IV sedation, allowing you to rest comfortably during the procedure and wake up when it is over. Having your wisdom teeth extracted today protects your smile and oral health in the future.
Why Choose an Oral Surgeon?
In addition to dental school, oral surgeons must complete an oral and maxillofacial surgery residency program. These additional four to six years of surgical training qualify them to perform complex surgical procedures, including orthognathic surgery, bone grafting, treating facial trauma and oral pathologies, treating cleft lip and palate, and much more. When a patient requires more advanced diagnosing, surgery, or sedation, general dentists refer them to oral surgeons. Additionally, oral and maxillofacial surgeons are the only dental professionals qualified to administer all forms of anesthesia or sedation for procedures, which is ideal for patients who have anxiety, dental phobias, or extensive surgical needs. When it comes to the bones and soft tissues of the mouth, jaws, head, and neck, oral surgeons are the experts to turn to.
Surrounding Cities/Neighborhoods
We are committed to improving the oral health of the communities we serve by providing excellent clinical care and progressive technology in a warm and compassionate environment.
Twin Falls, ID
Kimberly, ID
Buhl, ID
Contact Us in Twin Falls, ID
Message Our Twin Falls Office
*Required Fields
Whitewater Oral Surgery Group is proud to be a part of our Idaho communities. Check out our other locations to find the office closest to you.
Questions? We Are Here To Help You
Whitewater Oral Surgery Group Twin Falls | Dental Implant Experts is committed to providing exceptional oral and cosmetic surgery experiences for every patient. Please give us a call if you have any questions or concerns.